Introducing Elvaco Sense
Published: 10/17/2023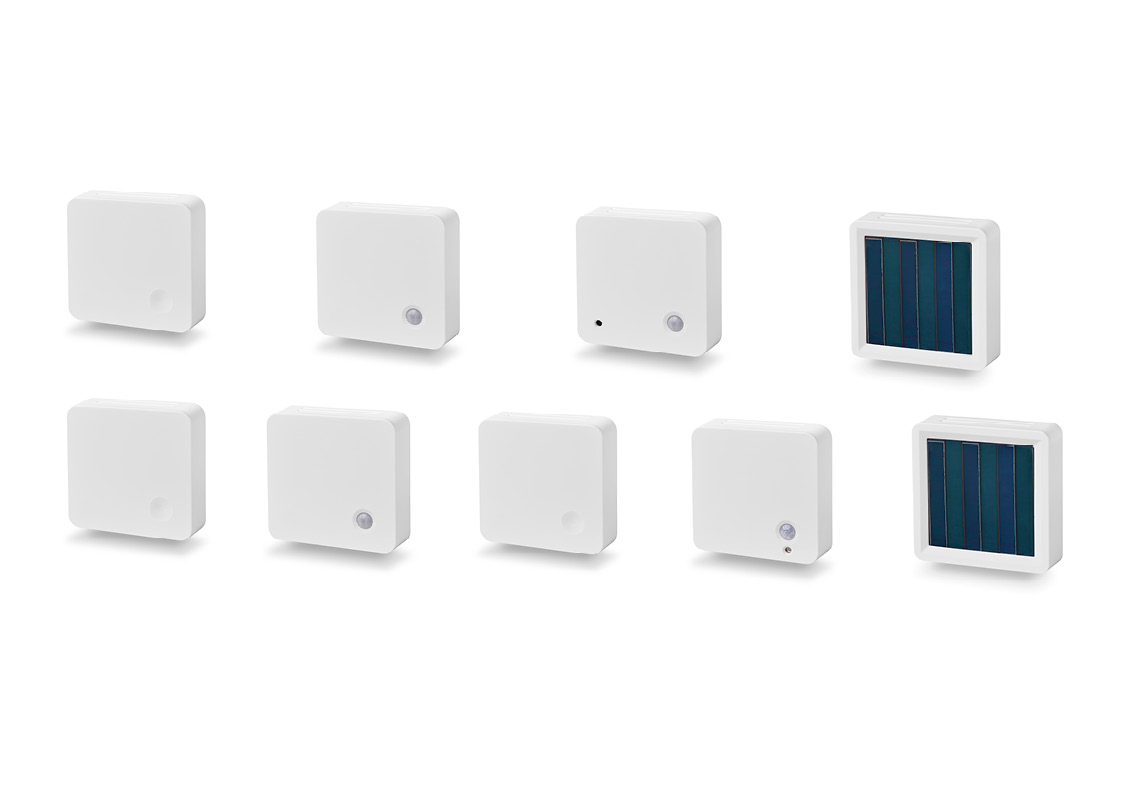 Elvaco is expanding its range of products with various multi-sensors for indoor wM-Bus communication. A single device records up to five different measured values.
In addition to the trusted M-Bus, wM-Bus and LoRaWAN sensors, Elvaco is expanding its range to include a variety of new multi-sensors for indoor wireless M-Bus communication. In this way, the users receive up to five different measured values with only one device at a time. The new Elvaco Sense series is made up of a total of nine sensors, which record various measurements where necessary – such as temperature, humidity and CO2 content in the air, motion, light, sound level or room occupancy based on body heat. In addition to seven battery-powered sensors, the portfolio includes the Elvaco Sense 300WS and Sense 400WS, which are two solar-powered sensors, which are suitable even for operation in dark rooms. Three of the new sensors are "5-in-1" sensors, including a device that measures temperature, humidity, motion, light and room occupancy using body heat, for example. The sensors are designed in such way that Elvaco will be able to offer solutions based on wireless M-Bus communication for all common applications in buildings in the future. The Elvaco Sense series can be individually configured using an iOS and Android app. Elvaco Sense 300W is available as of September and all other models will be available at the beginning of 2024.
The new wireless M-Bus sensors can be used to measure several different media: Elvaco Sense 100W is suited to perform simple temperature measurements. The Elvaco Sense 200W measures indoor humidity as well as temperature. Temperature, humidity and CO2 can be measured using the Elvaco Sense 300W. With the Elvaco Sense 400W, the user can receive temperature, humidity, motion and light readings with just one device.
Five readings, one sensor
The three new "5-in-1" sensors can do even more; the Elvaco Sense 502W delivers readings in terms of temperature, humidity, motion, light, and room occupancy based on body heat. The Elvaco Sense 501W measures temperature, humidity and CO2 content of the room, light and motion (PIR). The Elvaco Sense 500W measures temperature, humidity of the room, motion, light and sound. All models have a traffic light function, which shows whether a specific CO2 content threshold value has been reached. The maintenance costs of the new "5-in-1" sensors are low as a result of their battery life of up to ten years and an uncomplicated battery-changing process. With this new Sensor series, Elvaco is targeting submetering and energy efficiency applications. Measuring and monitoring a room's climate helps to save energy and prevent the growth of mould. Measuring the occupancy of a room allows for intelligent control. If a room is empty, the light, heating and air conditioning can be automatically adjusted. These sensors can be used in public buildings, schools, shops, business entities or apartment buildings, for example. The sensors' minimalistic Scandinavian design means that they can be discreetly installed in commercial, public and private spaces.
Solar-powered sensors that also work in dark interiors
Two solar-powered sensors round off the series: the Elvaco Sense 300WS measures temperature, humidity and light. The Elvaco Sense 400WS also measures the carbon dioxide level of the air in a room. The devices do not require batteries; they are powered by a single energy source – an organic solar cell developed specifically for indoor use. Not using batteries in a wireless IoT device significantly reduces its maintenance costs and pollutant load. This makes the sensors an environmentally friendly option. The sensor can function for up to 30 days in complete darkness in normal operation.
Connectivity and the use of key data from meters and sensors
The used NFC technology enables the user-friendly configuration of all Elvaco Sense series using iOS and Android app. For instance, the preferred transmission interval and the encryption mode can be set individually. The wireless M-Bus sensors transmit the data to a wireless M-Bus receiver, for example the CMeX50 from Elvaco, which is connected to the CMe3100 or CMe2100 LTE gateways. They then transfer the data to any IoT platform or Elvaco Evo for data visualisation.
Elvaco is synonymous with environmentally and climate-friendly products
David Vonasek, CEO of Elvaco AB, states: "Through these innovative devices, we are presenting state-of-the-art, environmentally friendly sensor technology that satisfies the current and future demands of our customers in regard to sustainability and energy efficiency. A large part of our range is increasingly made up of environmentally and climate-friendly products and technologies. We see this as our responsibility, as thousands of companies around the world use our products and services – for billing, monitoring, energy efficiency and optimisation in the district heating, water, real estate, electricity and gas industries."