Elvaco provides first in class end-to-end smart metering solutions.
Elvaco is a complete supplier of products and services for remote meter reading, sub-metering, indoor climate control and more. Our goal is to make our partners and their customers more digital and energy efficient.
NEWS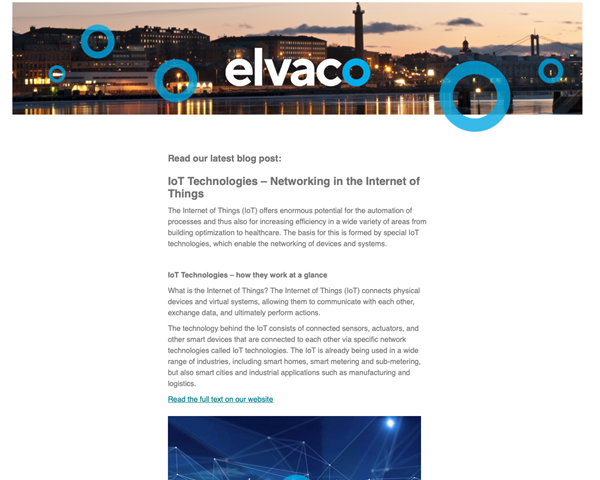 Here you will find the newsletter for October.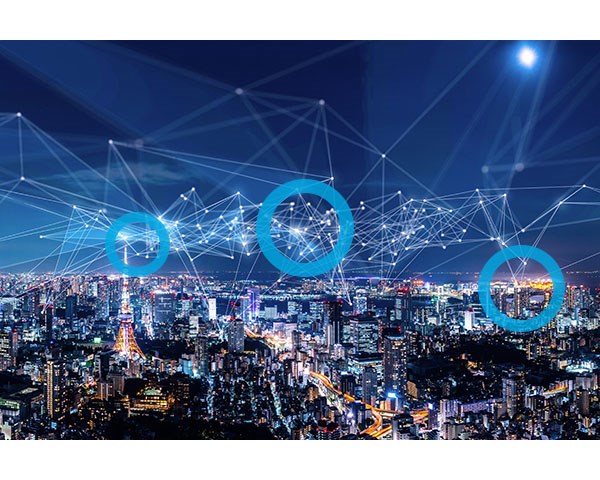 Discover the potential of different IoT technologies and their significance for various smart concepts.
Elvaco is expanding its range of products with various multi-sensors for indoor wM-Bus communication. A single device records up to five different measured values.
Elvaco Sense - Indoor sensors, wireless M-Bus
Elvaco - a full service provider for your metering infrastructure
Elvaco provides first-class end-to-end smart metering solutions. Using our industry leading experience, our visionary mindset and knowledge of metering and network protocols, including wired/wireless M-Bus, LoRaWAN and NB-IoT, we create seamless and complete data flows.
Elvaco offers products for each metering project - from Gateways, communication modules and meters to software solutions including Elvaco EVO, the cloud-based system for data and device management.
Elvaco is well known for reliable and customer-oriented solutions. From our locations in Sweden, Germany, Spain and UK, we organise projects for utilities and real estate companies around the globe. In the meantime, more than ten million metering devices have been integrated into an Elvaco infrastructure.
Connectivity overview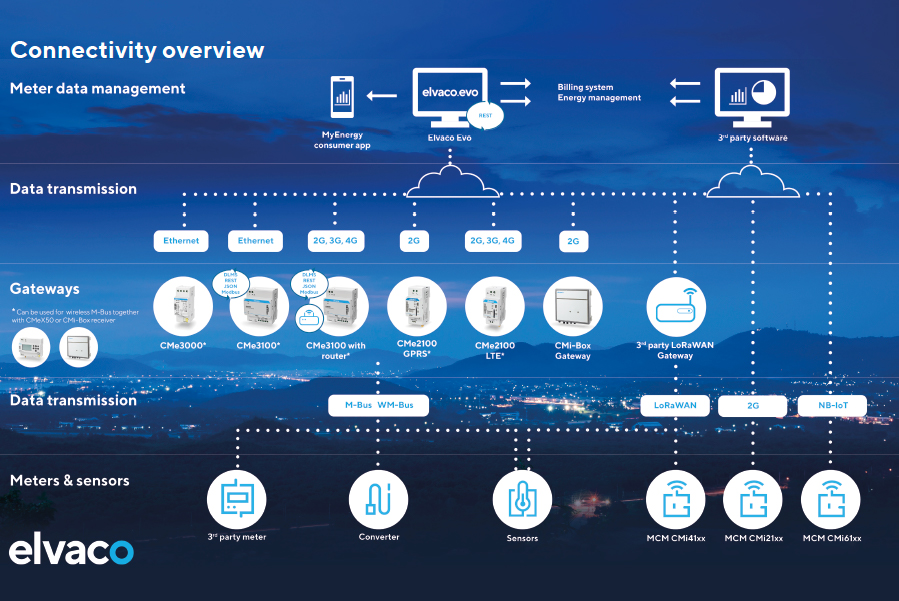 Our product portfolio ranges from sensors to infrastructure and covers all areas of an efficient metering solution. While the high-quality meters from renowned established manufacturers are known for their precision, reliability and durability, the matching meter modules complement the functionality of the devices. Our easy-to-mount sensors also measure temperature and humidity in a reliable manner. Finally, our infrastructure products, like gateways, act as the connecting element between all units of the metering system.
Our comprehensive range is completed by useful accessories and our in-house software solution Elvaco Evo. This wide product range simplifies professional measurement data collection visualisation and analysis of your metering project through an intuitive user interface. Therefore we achieve an optimal utilisation of the energy network.
Elvaco sees great importance in using highly sophisticated technologies, which are state of the art for IoT solutions. The classic metering technology is M-Bus, a communication technology for precise remote reading of various meters. In addition to the cost-efficient wired standard, the radio-based wireless M-Bus has also been established in the industry in recent years.
The radio-based technology NB-IoT also works completely wirelessly and convinces with optimised power consumption. The wireless network protocol LoRaWAN was also developed with the background of realising smart end-to-end solutions from the sensor to the head-end system. Our portfolio of technologies is completed by the established mobile radio standard LTE.
The visionary Elvaco company philosophy
With our products and services, we aim to revolutionise measuring and analysis of electricity, gas, water and heat to create awareness to make usage and consumption as efficient as possible.
For more than 35 years, renowned utilities as well as real estate companies have relied on our expertise when it comes to setting up comprehensive metering systems and IoT products. The facts also show this. All in all, more than ten million metering devices are connected via Gateways from Elvaco.
With the expertise of over 60 employees, we are constantly developing our solutions. As an internationally oriented company, we are represented with our innovative solutions, not only in the European market, but also in the Middle East and North America. It is particularly important to us to combine visionary and sophisticated technologies with simple and easy-to-use hardware and software products. With connectivity solutions and cloud-based systems, we are bringing the collection, processing and preparation of metering data into a new age. In this way, we make our contribution to an energy-efficient, economical and sustainable society.
First-class products meet innovative technologies
By combining innovative products and visionary technologies, we succeed in equipping international customers with efficient and secure metering systems. From sensors and a wide variety of meters to connectivity infrastructure devices and communication modules, our product range includes all components of advanced complete solutions.
In addition, we have developed our own software solution Elvaco Evo, which makes the analysis of consumption data through visualisations simple, accessible and understandable. International standards are met in terms of data integrity and security. Elvaco One-Touch Commissioning assures that the products are deployed in a secure way.
Besides our range of products from renowned quality manufacturers, it is also our state-of-the-art technologies that distinguish our first-class IoT solutions. For example, the sophisticated communication technologies M-Bus, LoRaWAN and NB-IoT enable remote reading of various measuring devices. The collected data is then evaluated with the help of special analytics tools. Whether it is Cloud Computing, Big Data or the Internet of Things - when it comes to the innovative use of latest technologies, we do not ignore any megatrend or emerging technical development.